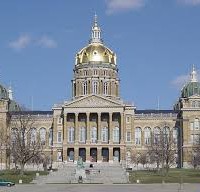 A West Des Moines lawmaker filed a bill Wednesday that would make cannabis oil more accessible for Iowans to use as a medicine. Representative Peter Cownie, a Republican, talked about his decision to push the bill in a statehouse news conference.
"As the father of a healthy three-year-old son and a healthy ten-month-old son, my heart goes out the families and the sick who have tried everything in the past to help their children and loved ones to no avail," Cownie says. "I believe it is time for the state of Iowa to act."
The Iowa Legislature passed a bill that was signed into law last year that allows resident to possess cannabis oil, but those who need it for their children or their own health say it is difficult to get. Cownie says the bill bans smoking marijuana, and only makes the oil legal.
"Only cannabidiol for a variety of ailments — including epilepsy. And also will allows it to be grown and dispensed in the state of Iowa. That's the problem that we had with the original bill," Cownie says.
Cownie spoke at a news conference Tuesday and did not want to say a lot more about the bill until it is filed, and then he says everyone will get an opportunity to voice their opinion.
"I would ask everyone to keep an open mind on the bill. There are predispositions to the word marijuana of course. This doesn't have anything to do with that," Cownie says. "This has to do with the oil derived from the plant."
He did not want to say how much bipartisan support the bill may have.
"I know we have some legislative support, but it is also my own personal policy, I don't speak for legislators personally. They all need to make their own decision on this, and hopefully we'll find common ground," Cownie says.
Representatives of "Iowans 4 Medical Cannabis" joined Cownie to talk about how the cannabis oil has helped them or their children. Steven Gaer says his daughter's seizures have been cut in half since she started taking the cannabis oil.
"This is amazing stuff with no side effects that we can't understand why people aren't doing more to understand it and help people get to it," Gaer says, "because there are no side effects. It either does work or it doesn't work, but there are no side effects to this medication."
He says the medications his daughter started taking at nine months old stopped her brain development, and she has the intellect of a four or five year old and she is 26. Gaer says the cannabis oil has helped his daughter to finally sleep through the night and she recently said a complete sentence for the first time.
"I tell people this is like non-alcoholic beer. Don't tell me if we have non-alcoholic beer that people are going to drink and become alcoholics. There are no side effects to this medication — yet she has seen results we have not seen before. And she has permanent damage," Gaer says. "I can't imagine a family with a young child that could have access to this, that maybe that child could live a normal life."
The Gaer's get their cannabis oil from New York. Iowans 4 Medical Cannabis say a survey they conducted in December shows 76 percent of Iowans support legislation that would allow the legal production of medical cannabis for those with qualifying conditions.