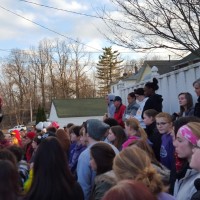 A vigil Saturday night, for Kedarie Johnson was attended by hundreds of mourners who knew and loved the "friendly and Joyful" high school student whose body was found in an alley on Fifth and Walnut Street in Burlington, on Wednesday night.
School friends of Kedarie who attended the vigil Saturday night said that, "he made everyone smile and laugh…everyone knew him. Everybody knew him, everybody just loved him, he was a great kid, and he's just a baby. He was amazing, he was himself no matter what happened. No matter what, he would go out of his way to help you, even if he barely knew you, he would just try to help as much as he could."
The Vigil included prayers and family and friends sharing their favorite memories of Kedarie. Two other vigils were held at Bracewell Stadium and at Grimes Elementarly School, all three vigils will meet at the Maple Leaf Center for food and consoling afterward.
Autopsy results are expected as early as Monday morning.
Lt. Jeff Klein, commander of Burlington's criminal investigation division said that " evidence gathered in this investigation is currently being analyzed at the Iowa Department of Criminal Investigation's lab to aid investigators to determine the person or persons responsible for this tragedy."
Police are asking anyone with information about the killing to contact the Burlington Police Department at (319) 753-8370. A reward of up to $1,000 is being offered for information leading to the arrest and conviction of those responsible for the crime.