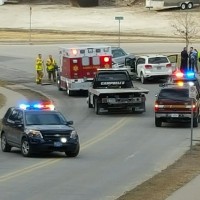 Burlington Police Report a driver crossed the centerline near the intersection of Agency and Washington Street, Saturday afternoon, causing a head-on collision.
Krystal Christy, age 28, of Keokuk was northbound, coming down the hill on Washington Street toward the intersection of Agency Street. Christy, for reasons unknown crossed centerline and collided head-on with a vehicle driven by Rachel Johnson, age 28, of Burlington.
The accident happened at 3:29 pm., Saturday afternoon. The Burlington Police Department reported that no serious injuries were reported. Both vehicles were towed from the scene of the accident.