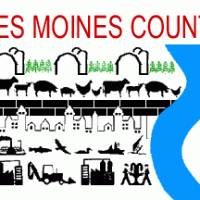 A lively debate at the Des Moines County board of Supervisors took place Tuesday morning, as the Des Moines County Democratic Party proposed setting a county-level law raising the minimum wage to $12 an hour.
Des Moines County Democratic Party Chairwoman and Danville School District Board Chair Sandy Dockendorf presented the idea to the Des Moines County Board of Supervisors on Tuesday, arguing that the current minimum wage–$7.25 an hour–is too low and that Des Moines county should join Johnson, Linn, Wapello, and Polk counties in setting a county-level minimum wage.
"Locally, we have a higher percentage of working poor, and 15.7% of our population living in poverty, compared to 12.3% statewide. There is very little impetus for employers to raise wages on their own, as the higher unemployment rate reduces that impetus," Dockendorf said.
She argues that raising the wage to $12 an hour would reduce the need for government assistance and allow local workers to spend more money within the community. She cited a Congressional Budget Report prepared by the federal government in 2014 that showed that raising the federal minimum wage to $10.10 could lift 900,000 people out of poverty.
But Board Chairman Tom Broeker disagreed with the plan, and with those numbers.
"[The CBO] also estimated that 500,000 jobs would be lost if the wage was raised to $10.10 [over two years]," Broeker said. "In the long term, that reduction in the workforce lowers the nation's output and income a little."
Broeker says that employers in Des Moines County, especially small business owners, can't afford a 66% increase in hourly labor costs, and that the move will lead to fewer jobs in Des Moines County. Supervisor Bob Beck agreed, saying that the upward economic momentum in the area would be stifled by an increase in the minimum wage and make the county less able to compete with neighboring counties when courting businesses.
Supervisor Jim Cary said that increasing the demand for labor in the area is the best way to raise wages, but didn't necessarily say no to the idea of raising the wage.
"When [higher paying] jobs were in here, the retail and restaurants had to pay a better wage, because there just weren't many in the workforce around," Cary told KBUR after the meeting. "We need to focus more on getting high paying jobs, like at Silgan [container plant], and the more high paying jobs we get will push the minimum wage up on its own."
Several residents spoke on behalf of raising the wage, including Alexandra Rucinski, a minimum wage worker in Des Moines County, and Peggy Wunderlich, a former minimum wage worker. Both told the board that living on minimum wage makes it difficult to make ends meet and purchase basic necessities, such as food.
State Senator Tom Courtney was on hand to support the Des Moines County Democrats. Courtney says that he hopes the county minimum wage initiatives spur the state legislature into action.
"I think they're trying to tell the legislature to get off their behinds and go to work. That's what I think they're telling us," Courtney said. "I think they're saying 'We shouldn't have to do this.' I think the more counties that do it will encourage the state to get going."
The board did not take any votes on the plan, and it's unclear as to whether or not they will in the future. Board members told Dockendorf that they would go over the numbers she presented to them.