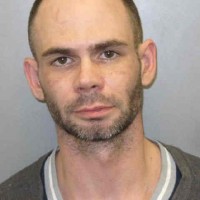 Des Moines County Sheriff Deputies on Monday managed to arrest the suspect in two car chases that took place this week.
Deputies arrested 34-year-old John Patrick Auwaerter after yet another car chase–less than 24 hours after Auwaerter evaded police capture while driving an unregistered Chevy Impala.
Burlington police first saw Auwaerter on the south side of Burlington and quickly ended pursuit after Auwaerter began driving erratically in an attempt to avoid police. Des Moines County Sheriff's deputies picked up the pursuit again on Summer Street. Auwaerter turned southbound on Highway 61 and evaded a spike strip set out by deputies in an attempt to stop the vehicle.
The pursuit ended when Auwaerter attempted to turn onto Highway 16 in Lee County and wound up striking another car. Auwaerter then took off on foot and was apprehended by deputies in the middle of a corn field.
He's facing two counts of Eluding Police, Speeding, Driving while Suspended, No Insurance, Interference with Official Acts, Possession of Drug Paraphernalia, Operating an Unregister Vehicle, and Failure to Maintain Control.
Back in October, Auwaerter was shot in the stomach, allegedly by 22-year-old Timothy Aunray Jones during an incident on October 17th. Jones was originally charged with felony assault for the shooting, but charges were dropped in January after Jones' attorney showed evidence that the shooting may have been in self-defense. Auwaerter refused to cooperate with police.
Auwaerter posted 10% of his $2,000 bond–that's $200–and left the Des Moines County jail Monday evening.