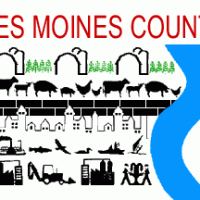 Des Moines County's share of your property tax money is expected to get slightly lower this year.
The County Board of Supervisors is set to publish their Fiscal Year 2018 budget this week with a county-wide levy rate of $7.44 per $1,000 assessed valuation. The rural rate is $11.12 per $1,000. Both rates are four cents lower than last year.
Supervisor Tom Broeker says he's particularly happy with this year's budget and says they're doing more with less.
"I'm kind of proud of this budget," Broeker said. "It allowed us to address the largest issues that we've got. We can take some of the pressure off of [County Attorney Amy Beavers] legal staff by adding an additional lawyer…and putting another law enforcement officer on the road, and still being bale to reduce the levy a little bit."
In addition to a new attorney at the County Attorney's office and a new Sheriff's Deputy, the county also intends to spend a bit more on Mental Health Services this year.
The Secondary Roads Department will have a busy fiscal year. Over $3,885,000 worth of road construction will take place in the county, including the repaving of Beaverdale and Mediapolis Roads, 205th Avenue, and 260th Street.