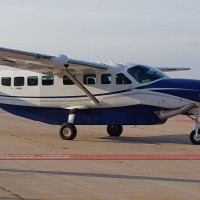 President Donald Trump's proposed budget could impact commercial air service in Southeast Iowa.
The budget unveiled last week cuts the Essential Air Service program, which subsidizes commercial air service in smaller communities. Air Choice One, a St. Louis-based airline, provides daily service from Burlington's Southeast Iowa Regional Airport to St. Louis, Chicago, and Minneapolis.
"If the Essential Air Service funding were to go away, those flights would go away too," said Southeast Iowa Regional Airport Director Mary Beaird. "The airport would still be in operation because we still have general aviation traffic, but I think it would be a huge loss to the community."
That's Southeast Iowa Regional Airport Director Mary Beaird. Beaird says that the airport does derive about $30,000 worth of revenue annually for fees paid as part of those Air Choice One flights.
Calls to Air Choice One were not immediately returned.
Beaird says that industry members are in touch with legislators in hopes of maintaining funding for the service.