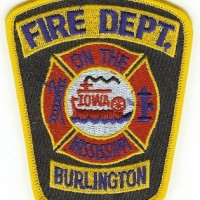 A South Central Street Garage was completely destroyed by fire early Sunday Morning.
Firefighters were first called out to 708 South Central Street at around 12:20 am to a report of a garage fire. Upon arrival, the structure was totally engulfed in flames.
It took firefighters from Burlington and West Burlington about 25 minutes to get the fire under control. The structure sustained about $7,000 in damage, and the contents inside were valued at around $5,000.