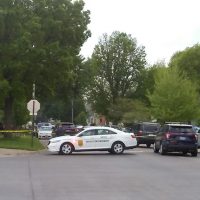 Burlington Police say that two arrests were made in Wednesday morning's Central Street shooting.
26-year-old Timothy Leture Chew  has been charged with Attempted Murder, a Class B Felony, and 35-year-old Arthur Johnson Smith (AKA AJ, Lil Mo) has been charged as a Felon in Possession of a Firearm, a class D Felony. They were both taken to the Des Moines County Jail, where they are being held with no bond until they appear in court.
Officers first responded to the 400 block of South Central Avenue at 9:15 Wednesday morning for a shots fired call, they found Chew carrying a loaded firearm on the sidewalk. Smith had sustained a minor gunshot wound in the exchange of gunfire; he was treated on the scene and transferred to Great River Medical Center in a private vehicle.
Witnesses on the scene said that they heard between 40-50 gunshots Wednesday morning, describing one of the weapons used as an "AK-47" style rifle. At least one vehicle was damaged at the scene.
As part of the investigation a search warrant was served at a residence in the 400 block of South Central Street, the weapon that Chew was carrying was seized, and numerous items were collected as evidence.
Authorities say the investigation into this incident continues, and additional charges and arrests are possible. They urge anyone with information to contact the Burlington Police at (319) 753-8370.