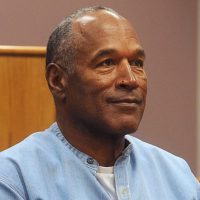 LOVELOCK, Nev. (AP) — O.J. Simpson will be paroled after serving nine years in prison for a botched bid to retrieve sports memorabilia in Las Vegas.
A Nevada parole board decided Thursday that the 70-year-old former football, TV and movie star will be released in October after serving his minimum term for armed robbery and assault with a weapon.
Simpson responded emotionally, saying, "Thank you, thank you, thank you."
Four parole commissioners in Carson City questioned Simpson by video conference from the Lovelock Correctional Center in rural Nevada.
Simpson received a 33-year sentence in 2008 for an armed robbery involving two sports memorabilia dealers in a Las Vegas hotel room. The conviction came 13 years to the day after he was acquitted of murder in 1995 in the deaths of his ex-wife and her friend in Los Angeles.
Simpson made headlines on the football field but the Heisman-winner became infamous after he was implicated in his ex-wife's murder in 1994. He was acquitted of all charges after a highly publicized trial.