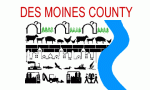 Some Burlington residents have recently expressed concerns online about individuals at their door asking to inspect their homes, with some claims that the person couldn't produce identification.
Des Moines County Tax Assessor Matt Warner says private contractors are currently performing field inspections on behalf of the county. He says that all contractors should be able to provide identification when asked.
"They should have identification with their photo on it, showing they are a representative from Vanguard, working on the Des Moines County Assessor's behalf," Warner said.
He says their vehicles should be marked as well. "They all drive their own vehicles, but they do have signage on the car that says they're working for the Assessor's office."
Warner says that if an inspector can't provide ID, you can call the police, and dispatchers will have the information of who is working in the area. he also says everyone doing inspections in the area are listed on the county website.
Warner says it's not required to let the inspectors in, although he does recommend it.
"We still have to put a value on the property whether we get into it or not. If they refuse entry, we have to estimate what's on the inside," Warner says that could result in inaccurate tax estimate. "I always encourage people to work with them…they're just looking at the physical characteristics of the house."
The field inspections are part of what Warner calls a "Mass re-appraisal." He says inspectors will be working in the area for the next year to re-assess every home in the county, a process that was just completed on commercial properties. He says the new tax valuations will go into effect for 2019.