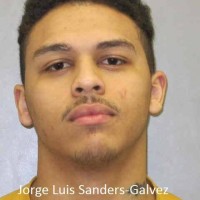 The attorney for a man charged with the murder of a 16-year-old Burlington High School student in March of last year says that Des Moines County Attorney Amy Beavers hasn't shared her exhibit list with the defense, despite a court order to do so.
Curtis Dial made that claim in a filing submitted Tuesday. He represents Jorge Luis Sanders-Galvez, one of the men accused of killing Kedarie Johnson. Beavers made a filing protesting Judge Mary Ann Brown's July decision to exchange exhibits with Dial's team, arguing that it would violate the state's right to a fair trial.
Beavers said Monday that she is complying with the court order, but that Dial is hoping to expand its scope and wants to obtain the list before Beavers is legally obligated to turn it over.
Brown set a Thursday deadline for all motions relating to her order to exchange exhibits and suppress some evidence in the trial–namely a section of a video depicting Sanders-Galvez's first interview with Burlington Police.
Sanders-Galvez is set to go to trial in October in Henry County.