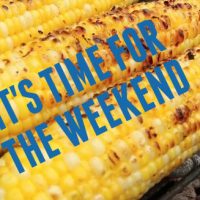 Saturday
---
Sweet Corn Festival in downtown West Point opens today with barbecue chicken dinners from 11 a.m. to 10 p.m. Copperhead Creek Stage Entertainment is 7 to 10 p.m.
The Brunettes defend their title against the Blondes at 5PM at the RecPlex in West Burlington to benefit the Alzheimer's Association. Family Fun events including Kids Games, Face Painting, 50/50 Raffle, and a silent auction.
Walk to raise awareness of the importance of breastfeeding is 9 to 11 a.m. around Great River Health Systems' lake in West Burlington, with information about services for women and infants, a dunk tank, door prize drawing and free refreshments. Registration is $5. Proceeds will be used to purchase donor milk from Mother's Milk Bank of Iowa. To learn more, call (319) 768-2618.
Art Center of Burlington, 301 Jefferson St, will have an opening reception for its August gallery show, "Someone's Family" by Pamela A Houser, from 4 to 6 p.m.
Mount Pleasant Farmers Market is 8:30 to 11 a.m. Saturdays and 4 to 6 p.m. Wednesdays at McMillan Park in Mount Pleasant.
Farm Fresh Farmers Market is 8 a.n. to 1 p.m. every Tuesday and Saturday at Dollar General, Roosevelt Avenue and Agency Street, through Oct. 31.
Black Hawk Tour hosted by Des Moines County Historical Society is 1 to 4 p.m. at the Heritage Center Museum, 501 N. Fourth St. To learn more, call (319) 752-7449 or email austins@dmchs.org.
Back-to-School Health Fair is 10 a.m. to noon at Fort Madison High School. Services being offered include haircuts, DNA swab, immunizations for students entering kindergarten and those age 11-12, vision screenings and tennis shoes. Groups will give out information and backpacks with most school supplies. The event is hosted by United Way and Kiwanis. To learn more, email dawnjohnson@fmcsd.org.
Sunday
---
Sweet Corn Festival in downtown West Point concludes today with barbecue chicken dinners at 11 a.m. The parade is noon. Mini garden tractor pull is 2 p.m.
West Burlington Flea Market is 6 a.m. to 2 p.m. at the SCC Fairgrounds, 1500 W. Agency Road, featuring a large variety of flea market vendors.
National Model Aviation Day Fun-Fly hosted by Burlington Model Airplane Club is 10 a.m. to 4 p.m. at Big Hollow Recreation Area's Poison Model Airplane Field, 15064 190th St., Sperry. There will be demonstration flying. Admission is free. Spectators are welcome.
Dover Museum, 213 W. Main St., New London, program on the "Early Days of Lowell," by town natives Elsie Gerber Williams and Marilyn Thornburg Buchholz is 1:30 p.m. Refreshments will be served. Admission is free.