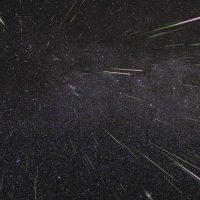 Grab a blanket, your beverage of choice, and set up a comfortable seat to check out the sky tonight, Saturday 12th.
The Perseid meteor shower will put on a beautiful show right above our heads. The best time to view the show is this weekend when the sky first becomes dark, according to accuweather.com. This weekend is the peak of the shower.
Because the current moon is a particularly bright Waning Gibbous Moon, it will make the meteors a little more faint than usual, but the meteor shower is still expected to be spectacular.
The ideal view of nature's ages-old show is away from city lights and looking at the sky away from the moon. Reviews from yore suggest that even looking up with a bright moon won't get in the way of the beauty that the night's sky holds for us.
The Perseid meteor shower could reveal up to 100 meteors per hour tonight.