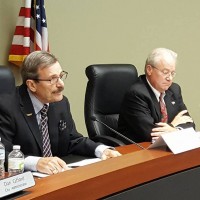 Voters went to the polls Tuesday to elect leaders for Des Moines County school boards, and the preliminary results are in.
In Burlington, there were three seats up for election and three candidates running unopposed. Dean Vickstrom and Darven Kendall were elected, however according to unofficial results a write-in campaign to elect former State Senator and School Board President Tom Courtney was successful. Courtney edged out Linda Garwood with 378 votes to her 297.
A highly contested race for two open seats in the West Burlington school board saw incumbent candidate Lee Boughton retain his seat, he will be joined by Bruce Thuleen on the board. Write-in campaigns by Jay Day and Andrea Bowen were unsuccesful, however Bowen was able to secure 117 votes to take third place.
Elsewhere in Des Moines County, Andy Grothe and Sandy Dockendorff were elected to the Danville School Board. Carrie Lippert was elected for Mediaplis District 3, John Witte was elected to Mediaplis District 4, and Richard Whitaker was elected to Mediapolis District 6. Mediapolis Public Measure B passed with a 67.33% vote.
Lanny Hillyard was elected to SCC District 1, Jeff Heland was elected to SCC District 2, and SCC's Public Measure A passed with a 73% vote.