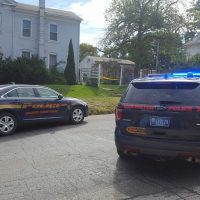 The Iowa Division of Criminal Investigation has released the names of the officers involved in a Sunday police shooting that killed a 27-year old Burlington man.
The DCI reports that Burlington Officers Chris Chiprez and Josh Riffel were involved in a traffic stop in the area of South 9th Street and Vine that ended with the death of Marquis Jones. Jones allegedly fled from police behind a house in the 600 block of Maple Street, where he was shot in the chest just before 2:00 pm.
A handgun, not belonging to police, was found on the scene.
The DCI says preliminary findings indicate that only Chiprez fired his service weapon.
Both Officers remain on paid administrative.