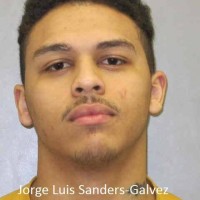 There could be another change of venue in the murder case against Jorge Luis Sanders-Galvez, one of the men accused of killing a 16-year-old Burlington High School Student in March of last year.
Sanders-Galvez's defense attorney, Curtis Dial, made a filing this week in Des Moines County Court to move the trial from Henry County, saying that the racial makeup of Henry County would prejudice the jury against his minority client.
Sanders-Galvez is accused of killing Kedarie Johnson and dumping his body in a 4th street alleyway with the help of another man, Jaron Narelle Purham.
The case was already moved out of Des Moines County in May, with Judge Mary Ann Brown making that ruling in an effort to get the case underway quickly and avoid scheduling conflicts. That was before the trial was delayed in July after word that a federal grand jury had convened in the case in Davenport, and that Sanders-Galvez could face federal hate crime charges.
Johnson was openly gay. The "hate crime" designation was initially dismissed by investigators with the Burlington Police Department. Grand jury proceedings are typically secretive in nature.
The trial is still set, for now, for October 25th in Henry County.