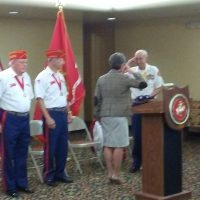 The United States Marine Corps celebrate their 242nd birthday today (Friday). Al Nelson has been a member of that group for 73 of those years.
The 91-year-old veteran of three foreign wars was honored in a ceremony Friday morning. Iowa Senator Joni Ernst presented Nelson with a flag that has been flown over the United States Capitol, and she also presented him with something a bit more personal.
"There is a tradition in the military of challenge coins… and when I was a company commander and a battalion commander I had a challenge coin… it's a tradition I'm carrying on in the United States Senate," Ernst said before presenting Nelson with the coin.
Ernst's challenge coin features an Iowa Senate emblem on one side, and the Iowa flag and Minuteman on the other. The Minuteman is symbolic of the Iowa National Guard, in which Ernst served as the Commander of the 185th Combat Sustainment Support Battalion.
Nelson had a gift to give in return. He offered Senator Ernst sand from the beach of Iwo Jima which he had been given when he took a trip back to the famed battlefield. He told the crowd of around 30 supporters that he never expected such a ceremony.
"I'm kind of overwhelmed today because I just never did know that anything like this would ever happen," Nelson told the crowd of around 30 family members and friends.
Nelson enlisted in the Marine Corps at 18-years-old and has served in World War II, Korea, and Vietnam. He turns 92 next month.
Gov. Kim Reynolds will make several appearances at Veterans Day events in Des Moines on Saturday.