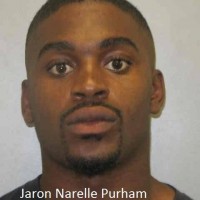 An Ottumwa public defender has been appointed to represent Jaron "Wikked West" Purham, one of two men accused of killing a Burlington High School student in March 2016.
The Hawk Eye reports that Allen L. Cooke III accepted the appointment to represent 25-year-old Purham, who is facing first-degree murder charges in the killing of Kedarie Johnson, a 16-year-old LGBTQ teen whose body was foundy in an alley on South 4th St on March 2, 2016.
According to records in Des Moines County District Court, Cooke recently filed a written plea of not guilty on behalf of Purham. He also waived Purham's right to a speedy trial.
Purham was scheduled to appear for arraignment on the murder charges 8 a.m. on Monday in Des Moines County District Court, but because Cooke has already filed a written plea of not guilty and waived Purham's speedy trial rights, he will not be required to appear in court Monday.
The trial date for Purham will be determined at a later date.
Cooke was appointed by District Judge Michael Schilling to represent Purham after the Des Moines County Public Defender's Office asked to withdraw because of numerous conflicts of interest.
Purham's cousin Jorge Sanders-Galvez was convicted Nov. 3 of first-degree murder following a two-week trial in South Lee County District Court.
Sanders-Galvez will be sentenced by District Judge Mary Ann Brown Dec. 18 in Des Moines County District Court. Under Iowa law, he faces a mandatory sentence of life in prison.
According to court officials, despite the fact Sanders-Galvez and Purham were charged with murder in state court, they could face murder charges involving elements of a hate crime in federal court. If they are tried and convicted in federal court, they could face the death penalty because a firearm was used in the hate crime killing of Johnson.
Purham remains in the Lee County Jail in Montrose in lieu of a $2 million cash-only bond.
Sanders-Galvez is held in the Des Moines County Jail without bond pending his sentencing next month.