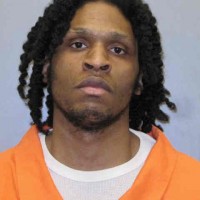 Jury deliberations are underway in the trial for a man accused in the 2015 murder of a Burlington man at South Hill Park.
Closing statements were made Monday afternoon by prosecutors who say that 24 year-old Earl Booth-Harris shot and killed Deonte Carter at a park on 7th and Elm streets on February 16th, 2015. The theory laid out for the last three days of testimony is that Carter and Terrance Polk had an ongoing feud after Carter alleged that Polk had burglarized his home and stolen a pair of Nike Air Jordan shoes.  Assistant Iowa Attorney General Andrew Prosser recounted evidence put forward by the state, saying that testimony from Donnell Watson, Facebook message records, and forensic evidence all pointed at Booth-Harris.  He said another piece of evidence that places Booth-Harris as the shooter is the bullet that struck his leg on that February day.
The 911 call made by Ed Dewitt was played for jurors where Dewitt was heard saying "I don't even know if I hit that n****, I hope I hit that b****" prior to Dewitt talking to a 911 operator. He was presumably talking to someone else at the murder scene and referring to returning fire at the shooter. A short time later Earl Booth-Harris was at a hospital in Monmouth with a gunshot wound to the leg. Prosecutors say that proves that Booth-Harris was shot by Dewitt when he fired shots at the man who had just put multiple bullets into Deonte Carter.
A closing statement from defense attorney Jim Beres called into question the evidence presented by the state. Beres said that the eyewitness testimony from Donnell Watson is not reliable, as Watson lied several times throughout the initial investigation into the murder. He pointed out that Watson lied about moving the .40 caliber handgun that Dewitt fired that day into a nearby yard, and had trouble identifying Booth-Harris as the shooter until he had seen his photo three times. Beres also called into question the lack of motive that Booth-Harris had for killing Deonte Carter.
"What motive did Earl Booth-Harris have to hurt Deonte Carter?" Beres asked jurors. "Absolutely none." He went on to speculate that Terrance 'Lil T' Polk may have been the shooter. "Lil' T had motive, Lil' T acted guilty, Lil' T is 5'8."
Throughout the trial a key argument of the defense is the initial descriptions given of the shooter which listed his height anywhere from 5'6 to 5'11. Prosser argues that with a gun in their face anyone could get physical details of the suspect wrong.
The jury deliberated around 45 minutes prior to being sent home by Judge Linn, they will resume Tuesday morning at 9 AM.