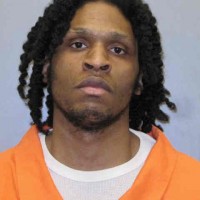 It took 80 minutes of deliberation for a jury to find 24-year-old Earl Booth-Harris guilty of first-degree murder in Des Moines County District Court Tuesday morning.
There was a heavy police presence at the Courthouse when the verdict was read, although there were no outbursts or out of line behavior throughout the one-week trial. Defense attorney Jim Beres requested an individual polling of the twelve jurors, who all verified that guilty was their verdict.
Throughout the three days of testimony prosecutors alleged that Booth-Harris shot and killed Deonte Carter at a park on 7th and Elm Streets in response to an ongoing feud Carter had with Terrance 'Lil T' Polk. Authorities say Polk had been implicated in a burglary at Carter's home in which a pair of Nike Air Jordan shoes were stolen.
An eyewitness to a confrontation only hours before the murder heard Carter yelling "I'm talking bout those motherf***ing shoes on your feet" at Polk. Facebook records showed the two agreed to meet up to fight at South Hill Park later in the day.
Authorities say before that fight occurred Booth-Harris approached and shot Deonte Carter several times in the chest. Carter's last words, according to his cousin Donnell Watson, who was with him when he was shot were  "you gotta do what you gotta do."
Judge Linn has tentatively scheduled a sentencing for Booth-Harris on December 18th, first-degree murder carries a mandatory sentence of life in prison without parole.