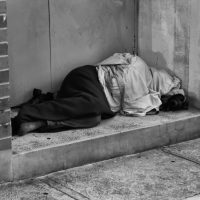 IOWA CITY, Iowa (AP) — Shelter House in Iowa City will again offer a temporary emergency winter shelter for people who have nowhere to sleep when the weather turns cold.
It's the fourth straight year the winter shelter house is being run by the nonprofit, the Iowa City Press-Citizen reported . It will run the shelter out of an empty county-owned building on South Clinton Street. The county will not charge rent for the space and will continue to pay for utilities.
County staff offered use of the building after the county moved its ambulance and medical examiner services to a new building, County Board Chairwoman Janelle Rettig said.
Mark Sertterh, associate executive director of Shelter House, said he expects the emergency shelter to begin operations sometime in the first week of December.
In previous years, the shelter has run from mid-December to mid-March.
In past years, the winter shelter has averaged between 25 and 30 people a night, and Sertterh said he expects a similar number this year. In all, last year's winter shelter helped 151 people, he said.
The county building provides more room than the temporary shelters in years past, he said.
"We'll be able to give people a little more room to have some privacy and not have people all up in their space," Sertterh said.
The winter shelter will operate in addition to Shelter House's main, 70-bed location at 429 Southgate Ave. Starting Sunday, staff will open up the lobby of the main shelter for overflow, which adds capacity for about 30 additional beds.
Unlike the main shelter, the temporary winter shelter will not have a sobriety requirement. Dropping that requirement provides a place to stay during the cold months for people who normally would not go to Shelter House for help, Sertterh said.