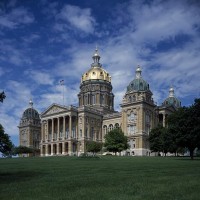 DES MOINES, Iowa (AP) — An Iowa executive branch appointee under fire for working as an agent of Saudi Arabia has retroactively disclosed her consulting work.
Connie Schmett recently filed a personal financial disclosure for 2013, which was due 3 ½ years ago but never filed due to an apparent oversight.
Schmett also amended forms for 2015 and 2016 to disclose her previously-omitted work as a consultant for Schmett & Associates.
Schmett, a member of the Health Facilities Council, is required to disclose her outside work and income annually. It's unclear whether she'll face sanctions for incomplete disclosures.
Schmett's firm was paid $101,500 for a Saudi Arabia-funded advocacy campaign against a law allowing victims of the 2001 terrorist attacks to sue the kingdom.
Gov. Kim Reynolds has criticized that work and returned donations from Schmett and her husband, Employment Appeal Board Chairman Kim Schmett.