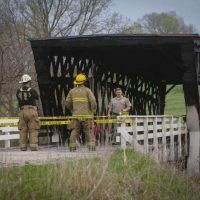 WINTERSET, Iowa (AP) — A woman charged in the burning of a covered Iowa bridge featured in the novel "The Bridges of Madison County" has pleaded guilty.
Court records say 19-year-old Alivia Bergmann entered the plea Monday in Winterset. Prosecutors dropped a related charge in exchange for Bergmann's plea. Her sentencing has been scheduled for May 17.
Cedar Bridge, which was destroyed April 15 near Winterset, also was featured in the 1995 movie adaptation.