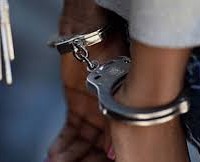 Burlington residents were among those arrested by federal prosecutors in connection with an alleged interstate drug ring Wednesday.
Federal Prosecutors say the lengthy investigation into drugs and money laundering resulted in the arrest of 19 people from Burlington, Chicago, and Milwaukee. Authorities seized cocaine, heroin, eight vehicles, and 21 guns in the process of serving 17 search warrants, one of which was in Iowa.
The defendants were charged with various drug, money laundering, and bankruptcy fraud charges. If convicted each will face a mandatory minimum of 10-years, and up to life in prison.
Prosecutors call this a "large-scale" operation, and note that the Department of Justice, DCI, State, and Local law enforcement worked together to stop an organization that they say was "flooding southeastern Wisconsin with Fentanyl, Heroin, and guns." More than 250 law enforcement officers participated in the investigation, search warrants, and subsequent arrests.