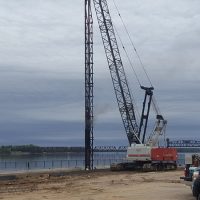 The Burlington Riverfront Flood Wall isn't even up yet, but it's still going to get a makeover.
The Burlington City Council approved a design change Monday that will widen the vertical concrete ridges on the permanent sections of the flood wall.
"It is fairly similar to the look we have right now, it just has much wider ridges and doesn't have the durability issues that I have with the current section," said Assistant City Manager Nick MacGregor.
MacGregor brought up concerns last month that the ridges were brittle and easily broke off of the wall. There were also concerns that graffiti would be difficult to remove from the wall.
The $6.2 million project is expected to be completed in May.