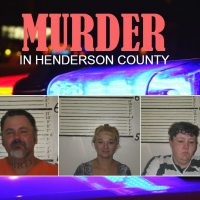 Arraignment dates have been set for three people accused in the murder of a Carman man in October.
41-year-old Donnie Blakely, 39-year-old Amy Hoffman, and 38-year-old Angel Logsdon appeared in Henderson County Circuit Court Wednesday morning. Arraignments for the three were continued until December 13th for Hoffman, December 20th for Blakely, and December 27th for Logsdon.
Police say that Blakely shot and killed 87-year-old Rex Mynatt at his home on October 8th. The rural-Illinois man was found dead with a bullet wound to the chest on October 8th.
Court records indicate Blakely was previously arrested in a Henderson County Methamphetamine bust, and was out on bond at the time of the murder.