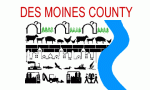 Des Moines County could be joining a nationwide class action lawsuit against opioid manufacturers.
County supervisors discussed joining the suit during a Tuesday work session with County Attorney Amy Beavers.
According to the Des Moines Register, thirty-six counties across Iowa have already joined the suit, filed by Crueger Dickinson law firm of Wisconsin. The law firm identifies five pharmaceutical companies, their subsidiaries, and several physicians which they say have downplayed the risks of opioids, and "aggressively marketed opioid use to physicians to treat chronic pain."
In addition to Iowa Counties, municipal governments from all over the United States have joined in the federal lawsuit.
Des Moines County supervisors were conflicted on whether to join, Board Chairman Jim Cary worries about the effects of the suit on those who really need medications.
"If this goes through, and this pharmaceutical company quits making this drug that helps a cancer patient out there for pain… that's the bad thing I see about it," Cary said. "This is gonna be a big lawsuit, this isn't just Iowa. This is the whole United States… every state and every county."
Joining the suit will appear on a future agenda for discussion.