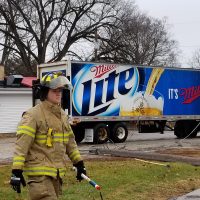 Several houses were without power after a beer delivery truck knocked over a power transformer Thursday morning.
Emergency responders and Alliant Energy crews responded quickly to a downed transformer in the parking lot of the Summer Street Station around 10:45 Thursday morning. Power lines were draped across the truck as workers started repairs on the lines.
Alliant reports six customers were without power briefly while the transformer and lines were repaired.
The truck driver has not been identified at this time.