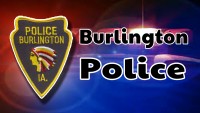 A 25-year-old man was shot in the ear on Maple Street early Thursday morning.
Lt. Greg Allen says Burlington police responded to a report of a gunshot victim shortly after 4 AM, they located the man behind a house at 10th and Maple Streets. Evidence was found several blocks away behind another house in the 800 block of Maple Street.
The man was taken by ambulance to Great River Medical Center, police say the wound didn't appear to be life threatening.
Police are asking anyone with information on the shooting to contact the BPD at 319-753-8375, or Crimestoppers at 319-753-6835.