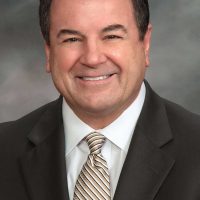 SCC President Dr. Michael Ash will receive the Council for Advancement and Support of Education (CASE) 2018 District VI Chief Executive Leadership Award at its annual conference in St. Louis on January 29.
The CASE District VI Chief Executive Leader Award recognizes outstanding leadership and service in support of education. It is presented annually to an outstanding president, chancellor, headmaster or system head of a CASE member institution.
With assistance from SCC staff, area educators, and employers, Dr. Ash has launched many changes to expand access to higher education through a number of initiatives.
In his five years at SCC, he spearheaded the development of a comprehensive facilities plan, including the Building the Dream campus expansion initiative, the Health Professions Center, the Industrial Technologies Training Center, and the Hall of Sciences, which will open in August.
He is also working with Burlington area organizations to build an indoor sports complex.
Ash and his team have launched a number of initiatives that expand access to higher education. Notable efforts include new athletics and international student programming, partnerships with area high schools to expose students to college, a focus on student success and retention, an outreach program called Education Changes Everything, and career training programs in support of area employers.
CASE supports alumni relations, communications, development, and marketing professionals at educational institutions worldwide. The association provides networking, recognition, and continuing education for more than 64,000 advancement professionals at more than 3,400 colleges, universities, and independent elementary and secondary schools in more than 70 countries.
CASE District VI represents professionals and institutions in the Midwest region of the United States (Colorado, Iowa, Kansas, Missouri, Nebraska, North Dakota, South Dakota, and Wyoming).