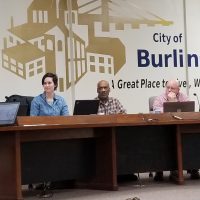 The City of Burlington has a budget for the next fiscal year — although discussion is far from over.
City officials have gone back and forth on what steps to take to avoid a nearly $1M budget shortfall in coming years, and discussion of future budgets is on the agenda for a Monday night city council work session.
Councilman Matt Rinker has called for discussing a utility franchise fee, or an up to 5% tax on utilities within the city limits. The city last tried to add such a fee in 2013. It failed with only 17% of voters supporting the measure.
The city's financial woes are partially a result of added personnel within the Burlington Police and Fire Departments. Six firefighters were brought on with SAFER grant funding this year, but the federal contribution decreases after two years, and the city is required to fund 100% of the six positions for at least one year after grant funding ceases.
Burlington Police have recently added two officers to their ranks as well, and hope to add another two next year. Police Chief Doug Beard told city leaders that violent crime and gun calls have been on the rise, and the additional officers are needed to restore the department to staffing levels it had nearly a decade ago.
The council meets at 4:30 at the Burlington City Hall.