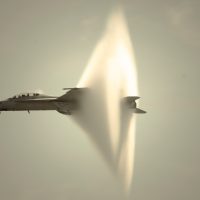 A familiar sound echoed across the region Monday, as a military aircraft went supersonic south of Keokuk.
Flight logs show that an F-15 aircraft was clocked at 1,099 miles-per-hour 43,000 feet in the air slightly west of Canton, MO at 2:57 PM. The sound barrier is broken at 767 mph over land.
Lee County authorities confirmed the noise was indeed a sonic boom shortly after.
The loud booms are becoming commonplace in Southeast Iowa, the last was heard in November when a military aircraft traveling the same route broke the sound barrier.