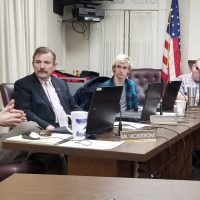 Community members, union representatives, and educators jam-packed the boardroom at the Burlington School Administration building on Monday for a school board meeting with an agenda with several big-ticket discussions.
The meeting started with public comments from union representatives from the Teamsters Local 138, representing district bus drivers, who accused the board of "union busting." The union gave the board a proposed contract last week, the district responded to the union with a proposed contract that union representatives called "gutted," it had only base wages remaining as a negotiable item.
Board members later voted down an agenda item to requested by Tom Courtney to set a public hearing on Chapter 20. Courtney wants to reinstate permissive items into the master contract for district employees. Board Vice-President Bryan Bross argued against a public hearing, and denied allegations that the district is anti-union.
"I think it's very inappropriate to levy an accusation of union busting," Bross said, before he was interrupted with a curse word from the crowd. President Marlis Robberts interjected, saying that if anyone couldn't refrain from interrupting board members they would be escorted out.
Tom Courtney was the only board member who voted for the public forum on Chapter 20, other board members argued it would continue a "spiral of negativity" on the subject. Dean Vickstrom abstained from the vote.
Heather Brueck and Deborah Hatteburg were not at the meeting.
The board also voted to slash budgets, leading to the elimination of 13 jobs in the district, including director of special services, five elementary computer lab associates, one half-time elementary art teacher, two administrative secretaries, the district assistant athletic director, two full-time elementary teachers, and the transitional kindergarten teacher and associate. In addition extra duty expenditures at the high-school will be reduced by more than $14K. Dean Vickstrom cast the sole no vote on the measure.
Original plans also called for using $200K from the cash reserves, however that amount was increasted to $250K after learning that employee health insurance premiums may rise anywhere from 25-35% next year, which could result in district employees taking home hundreds of dollars less per paycheck.
Editors Note: Story was updated with added details on job cuts 2/13/18