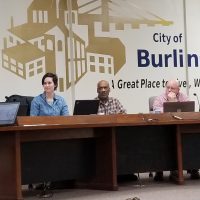 Burlington City Council members discussed four options that could offset a potential $800K budget shortfall at Monday's work session.
Each option was a combination of various choices in front of the council, including cutting police and fire positions, ending subsidies for the Memorial Auditorium at the end of the current agreement with American Music Festival in 2020, using one-time funds from the manor sale to offset deficits, and potential revenue changes, including a bill currently in the state legislature for enhanced ambulance funding.
Fire Chief Matt Trexel says the bill would make up the difference in cost for transporting Medicaid patients, which he says makes up nearly a third of the city's ambulance calls. Currently the state's healthcare program for the poor and disabled only pays a fraction of the actual cost of transporting the patient, the proposed legislation would make up that cost.
Trexel was also asked how a loss of three of the newly added firefighters would affect his department, he said the department could still function at the same level if three of the positions were to be eliminated as one of the four options — although he would pay more in overtime costs.
"We'd still have three ambulances all the time," Trexel told council members. "What we save by having the six of course is the overtime costs… if somebody calls in sick or is hurt."
Ferneau advised council members that there are numerous options to balance the future budget deficits. Matt Rinker said they have two main options down the road.
"Bringing up the franchise fee… we just have to decide if A, we're going to make adjustments, or B, we want to try and come up with a different funding source."
The city last tried to add a franchise fee to utility bills in 2013, it failed to win the support of voters and was overwhelmingly voted down in an 87% – 13% landslide.
The council will not make a decision anytime soon, as the city's financial landscape could change due to any number of reasons in coming years.