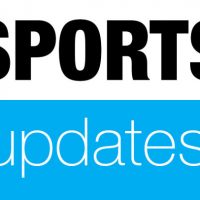 After years of getting owned by Iowa State, Oklahoma State exacted some payback in Ames last night. Jeffrey Carroll scored 21 points, Cameron McGriff had 19 as Oklahoma State cruised past Iowa State 80-71 on Tuesday, sweeping the season series with the Cyclones after losing the previous 10 meetings. The Cyclones, down starters Solomon Young and Nick Weiler-Babb to knee injuries, got as close as seven.
The Cleveland Cavaliers managed to improve to 4-2 since dealing six players before the NBA trade deadline. However, Tuesday's victory came despite surrendering 123 points to the second-worst team in the Eastern Conference. LeBron James provided 31 points, 12 rebounds and 11 assists as the Cavs knocked off the Nets, 129-123 at Cleveland.
The Cavaliers have indefinitely banned a fan from their arena for making racial taunts at San Antonio's Patty Mills. Security officials reviewed videotape from Sunday's game and identified the fan sitting near the court. He yelled at Mills while the Spurs guard was shooting free throws in the fourth quarter.
he unranked Miami Hurricanes coughed up a 16-point, second-half lead on Tuesday before ending North Carolina's six-game winning streak. Ja'Quan Newton drained a running 30-footer at the horn to give the Hurricanes a 91-88 victory over the ninth-ranked Tar Heels.
The Major League Baseball Players Association has filed a grievance against the Miami Marlins, Oakland Athletics, Pittsburgh Pirates and Tampa Bay Rays. The union accuses the four teams of failing to appropriately spend revenue-sharing money to improve their ballclubs. The four clubs ranked 20th, 25th, 27th and 28th in team payroll for their 40-man rosters last year before three of the teams dealt major pieces of their organizations.
Tonight: The SCC Blackhawks are on the road at Western Iowa for a Region XI Semifinal Tournament game. Hear it live on Hot 97.3 or KBUR.com