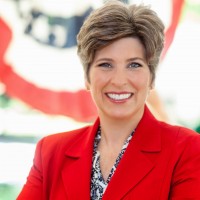 U.S. Senator Joni Ernst says Russian President Vladimir Putin may've been "blowing smoke" last week when he bragged about his country's nuclear capabilities, but it should serve as a reminder that Russia "is not a friend" to the U.S.
"Russia is a concern and Russia will continue to be a concern for a very long time," Ernst said. "They are what we consider a near peer adversary, as well as China, Iran and North Korea. We like to keep our eyes on folks like that." Putin, who seeks to be elected to a fourth term as president on March 18, said Russia has new weapons that would render NATO's U.S.-led missile defenses useless. Ernst, a Republican from Red Oak, said it's possible Putin's statement was just a campaign boast.
"He likes to project power and if he's doing that just by blowing smoke, he will do that," Ernst said. "But, we do know that Russia has nefarious intentions, especially when it comes to the United States, so we need to keep our eye on him and push back where we can push back." Ernst made her comments on Friday afternoon during a stop in Atlantic.