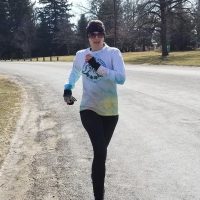 A colorful tradition took place in Crapo and Dankwarkdt parks on Saturday morning, as area runners, walkers, leprechauns, and other assorted characters ran through clouds of colored corn starch.
The Shamrock Shuffle 5K, put on annually by Burlington Kiwanis raises money for area youth programs. Organizers say around 750 people took part in the slightly more than 3-mile run.
Several color stations were set up along the path, blasting runners with a burst of color as they passed, the race culminated in the "color blast" at the finish line, when a humongous cloud of all colors was thrown up at once.