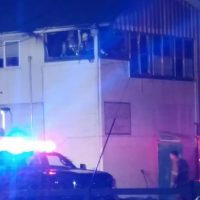 Fire officials in Fort Madison are investigating a fire in an upstairs apartment above Sorento's Pizza on Sunday evening.
Firefighters were called to the building at 7:32 on Sunday, when they arrived flames were visible on the deck of the apartment, and had extended in the building.
Firefighters were able to extinguish the flames, and were on scene for around two hours. The occupant of the apartment wasn't home at the time of the fire. There were no injuries.
A representative from Sorrento's couldn't be reached to determine when the pizzeria will reopen.