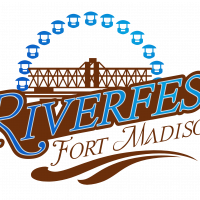 Four nationally known acts will headline Fort Madison's Riverfest in August.
The festival, now in its third year since being relaunched will feature Firehouse, Saving Abel, Hinder, Pop Evil, and Country rapper Colt Ford during the four-day August festival. Festival organizer Charles Craft says they had a five year plan to get the festival back to the level it was in the 80s and 90s, but they've accomplished that in three.
"This year obviously we've really ramped things up with our entertainment," Craft says. "There's a pretty good reason to come every night, we've got a bunch of great local and regional bands…and obviously national acts as well."
Organizers named the bands at a reveal party at Kinnick South on Saturday night. Craft says he wants the festival to be known for bringing rock music to Lee County.
In addition to the five national acts at least ten local bands will be playing, including The Brandon Gibbs Band, Jive Radio, Stumptown, Headfirst, and the Natu Band. The Thursday night main stage opener will be the winner of a Battle of the Bands contest in May, which he also describes as a "battle of the charities."
"We didn't want to be the same as everybody else," Craft tells KBUR. "I wanted it to be known this is our format…this is what we're gonna stick with. I think that will hopefully keep the majority of people happy."
The Battle of the Bands will be held May 27th, and will benefit three local charities, Elliot Test Kitchen, PAW Animal Shelter, and Puppy Jake Foundation. Craft says the no-cover charge event will raise money for all three charities while five judges determine which band will open up the festival.
"The winning band is gonna win a paid spot on the main stage opening for a national act," Craft says. "The winning Charity makes a little money for their cause and they get their word out there."
This will be Riverfest's third year since it was revived in 2015. It was a popular music festival in the 80's and 90's, with the final event held in 2000.