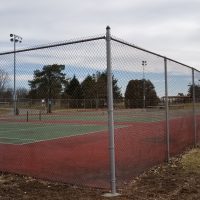 Tennis courts are again being served up on a city council agenda.
The Burlington City Council will discuss how to fund needed maintenance and improvements for tennis courts at Burlington public parks tonight.
Last week Burlington school officials announced a potential deal for the school district to fund improvements to the courts at Crapo and Dankwarkdt parks was off the table after they'd reached an agreement with Notre Dame schools to share the courts. They originally asked the city for a priority usage agreement in exchange for $50K.
The contentious issue saw several Notre Dame coaches, players, and supporters voice opinions to the council not to give Burlington priority usage of the courts. The agreement was voted down in a 3-2 vote last week.
The council meets at 4:30 tonight at Burlington City Hall.