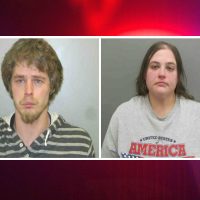 Two people were arrested early Monday morning following the repeated burglary of a house north of Burlington.
Authorities say Jon Pitts and Dawn Oberly, both 30-years-old, are facing 3rd-degree burglary charges after being pulled over by Des Moines County sheriff's deputies with items from a rural house in their vehicle.
Deputies were watching the home after it was broken into multiple times over the past several months. They say Pitts and Oberly's vehicle was observed parking behind the house around 2:30 Monday morning, and leaving two hours later. Deputies pulled the pair over and detained them, Pitts was taken to the Des Moines County Sheriff's office and interviewed where he admitted to entering the house through an unlocked window and taking doors, heaters, and an air conditioning unit.
Both were taken to the Des Moines County jail and charged with third-degree burglary and possession of burglars tools, where they are being held on a $7K bond. They could face up to 7 years in prison if convicted.
Both are due back in court for a preliminary hearing on March 22nd.