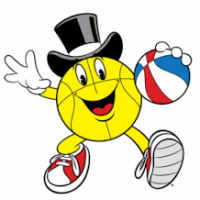 In 2018, Burlington will be Iowa's only location for a Gus Macker tournament.
The Greater Burlington Partnership went live on Facebook for the announcement of this years' Gus Macker tournament on the Mississippi Riverfront on August 4th-5th. Jeremy Slagel, chairman of the tourism branch of Greater Burlington Partnership, introduced the creator of Gus Macker, Scott McNeil who opened up his speech with " This all started in my parent's drive way 45 years ago when I was 17. "
McNeil explained the tournament is a 4 player, half-court game, similar to a 'pick up' game, but with a referee. Once registration is closed, teams that signed up will be placed in categories based on age, height, and experience. This is a double elimination tournament with the goal prize of a trophy. Each team is guaranteed 3 games. McNeil said " The age range has been as young as 7 and all the way up to 50-60."
Teams will pay a registration fee, but the event is free for spectators. If you are interested in participating, visit www.macker.com, for information. Registration will open up soon for the Burlington Tournament and will close 3 weeks before the event.