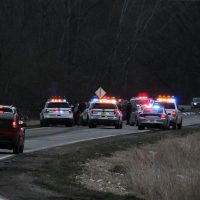 Two people were arrested this week following a high-speed chase that spanned three counties and hit triple digit speeds.
The Louisa County Sheriff's office says 30-year-old Ashley Roebuck, and 19-year-old Jason Ringold, both of Davenport were arrested after the car they were allegedly fleeing from authorities in crashed into a bridge.
Authorities say the chase began in Louisa County on County Road X61, briefly ventured into Muscatine County, then back into Louisa County on Highway 99. Police say the car was going more than 100 miles-per-hour throughout much of the chase. Police pursued the duo into Des Moines County, where deputies put out stop sticks at the intersection of Highway 99 and Walker Road just north of Burlington. The vehicle swerved to avoid the stop sticks and hit the bridge damaging the driver's side.
Authorities recovered several hundred dollars of stolen property from the vehicle. Ringold is charged with 3rd-degree theft, he was taken to the Des Moines County jail and released on a promise to appear in court. Roebuck was taken to Louisa County where she faces eluding charges and numerous traffic violations, she is being held on a $2500 cash-only bond.
A photo of Ashley Roebuck is not yet available from the Louisa County jail.