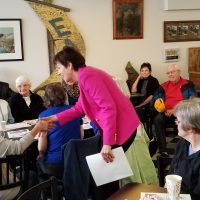 Iowa's Governor made a stop in Burlington Friday morning as part of her "unleashing opportunity" tour. The Uptown Ivy Bake Shop was packed as Gov. Kim Reynolds and Lt. Gov. Adam Gregg spoke to supporters and critics on numerous topics.
"As a grandmother, and a mother of a teacher, I know there is nothing more important than investing in our children," Reynolds told the packed crowd. "I'm really proud to say it has been a priority. In the past seven years, we've invested 765 million dollars in new money into k-12 education."
Educational funding, tax reform, collective bargaining rights, and mental health were key topics discussed. Around 75 people were in attendance for the event.
The tour also included stops in Montrose and Muscatine.
A full video is available on the KBUR Facebook page.