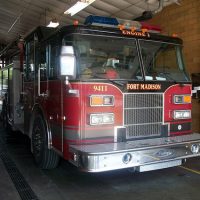 Fort Madison firefighters performed a high-stakes rescue operation last week.
The Pen City Current reports that a woman had to be rescued from a 40-foot cliff on Friday afternoon.
Fire officials say the woman fell down an embankment behind a trailer park near Fort Madison's high school as she looked for her cat. When rescue crews arrived they had to rig a rope system and lower personnel down the hillside with a basket. The woman was placed on a backboard and lifted back to safety.
Coincidentally, the department had just gone through rope rescue training the same week. The woman was taken to Fort Madison Community Hospital, no update on her condition is available.