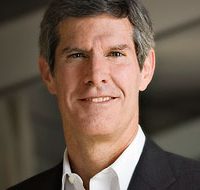 A KBUR News poll conducted this week shows Des Moines Businessman Fred Hubbell as the leader heading into next month's democratic primary election.
Hubbell leads the pack with a two-to-one lead over State Senator Nate Boulton. Six candidates are vying for the nomination to challenge incumbent Republican Governor Kim Reynolds in November. Polls indicate Hubbell has widespread support across the state, possibly due to being the first candidate to run television advertisements.
The poll finds Hubbell's support is highest among voters age 50+, while Boulton is supported heavily by voters in their 30's. The top three issues to democrat voters who were polled are education, health care, and women's rights.
18% of respondents were undecided at the time of the poll.
A primary election will be held on June 5th to select the who gets the democratic nomination.