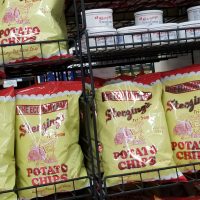 You may have noticed a different crunch in your favorite potato chip recently. The difference, according to Sterzing's president Craig Smith, is a result of an FDA ruling banning trans fats.
"So the oil that we had been using for decades contained trace amounts of trans fats…and that oil is no longer availalble to use for cooking," Smith told KBUR. "This is essentially the government saying 'you need to be healthier… so go use something that's healthier for you.'"
Smith says Sterzing's has hired a food scientist to make adjustments in their cooking process, he says it's been a difficult to match a recipe that was perfected over 85 years.
"It's taken quite a bit of time to narrow this down…and we believe we are much much closer," Smith says customers should notice a change in the chips in the next few weeks. "I'm pretty excited about what we were able to manufacture this week so far."
Sterzing's has been a wildly popular potato chip not just in Burlington, but across much of Iowa. Smith reiterated that it wasn't their idea to change the recipe.
"So people keep asking us 'why would you change something that was so good? Well we didn't want to," Smith says the recipe goes back to the chip's creator Barney Sterzing. "We know we had something that people really loved, and we hated to alter it."
Smith says with adjustments made this week people should start noticing a chip that's more reminiscent of the previous recipe. He's asking customers provide feedback to help them perfect the new cooking process and recreate the Sterzing's of old.
You can contact Sterzing's via e-mail at Sterzings.com, or by phone with your experience.
---
Listen to the full interview, with much more information on the changes and reasons behind it below.