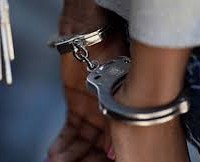 Burlington police arrested a Fort Madison woman on drug trafficking charges late Saturday night. 21-year-old Chloe Williams is facing felony methamphetamine trafficking charges. She was arrested in the 800 block of North 8th Street shortly after 10:30 pm. Williams was also arrested on a warrant out of Lee County. She's being held in the Des Moines County Jail on a 100K bond.
In an unrelated incident a Burlington man was charged with felony eluding and possession with intent to deliver marijuana. Authorities say 37-year-old Anthony Bobbitt was arrested after attempting to flee from police. He also faces traffic violations. He's being held on a 11K bond.
---
In other arrests this weekend:
34-year-old Derek Schneider was arrested Sunday night on drug possession charges. Arrest logs indicate he was charged with possession of methamphetamine, marijuana, and drug paraphernalia. He's being held in the Des Moines County jail on $2300 bond.
Two men were charged with 5th-degree theft at Kohl's on Sunday, 34-year-old Dennis Bowen and 30-year-old Marshall Markey were cited and released around 4 PM.
Two women were arrested for fighting in Lee County on Sunday morning. Arrest logs indicate 37-year-old Jenny Hamor of Burlington was arrested on disorderly conduct charges and taken to the Lee County jail in Montrose. A Fort Madison woman, 33-year-old Jeannie Breashers was also arrested on the same charges.
30-year-old Dakota Fenton was arrested Saturday on Domestic Abuse charges. He was taken to the Des Moines County jail and held without bond pending an appearance in court.
29-year-old Darius Green was arrested Saturday on possession of marijuana charges, he was taken to the Des Moines County jail and held on a $1K bond.
36 year old Loren Price is being held on 55 hundred dollars bond after being taken into custody on two warrants. The Burlington Police department took Price into custody around noon Saturday, he was released later that evening.
Fort Madison police arrested 44-year-old Lori Schorr of Iowa City on harassment and parole violation charges on Friday. Schorr was taken to the Lee County jail in Montrose.
The Burlington police Department arrested 19 year old Sean Watson around 8 pm Friday night. Watson has been charged with felony possession of Marijuana. Watson was held at the Des Moines County Jail on 5 thousand dollars bond and released the Saturday.
A serious misdemeanor charge of reckless use of fireworks has led to arrest of 52 year old Christina Luedtke. She was taken into custody on a warrant by the Burlington Police Department Friday night. Luedtke is being held on one thousand dollars bond.