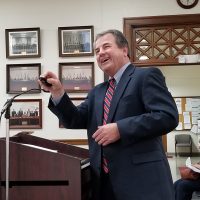 The Sports Bubble continues to inch closer to reality, Dr. Michael Ash talked to council members on Monday night to ask for help from the city to build the structure.
Ash's group, which has fund-raised around $6.2M so far, wants the city to contribute $500K towards a roughly 235 space parking lot, which would be shared with the city's neighboring Rec-Plex. The parking lot as planned would be concrete and on the south side of the indoor turf building. The location was a primary concern for councilman Jon Billups.
"If you're gonna spill over parking for both facilities you're too far away," Billups said. "That's an issue for me… it's on the wrong side of the building."
Billups said the parking would make more sense as a shared lot if it were on the West side of the building, Dr. Ash wasn't sure if it was too late to shift the lot but said he would look into it. Ash also wants the city to waive building permit fees, expedite the extension of Broadway Street through the business park from FY 20 to FY19, and split hotel/motel tax funds.
Ash wanted to get a feel for whether the council would support the measure, after some criticism on other area communities not investing money into the project, and whether the city could afford to invest in the program.
"Let me be frank about my feelings… I don't feel that (support)," Ash said he needed to know whether to continue with the project. "What I'm scared of is this council is going to say 'don't think so' and I'm going to have to pull the plug on a four million dollar project that I've already invested dollars in."
Council-members Linda Murray, Matt Rinker, and Jon Billups leaned towards supporting the project. Mayor Shane McCampbell and Mayor Pro Tem Annie Wilson both said they liked the idea but didn't think the city could afford to spend the money in the midst of other projects.
The facility would be built on Greater Burlington Partnership land across from the Rec-Plex. The Partnership would lease the land to the group for $1 in an effort to tourism and economic growth.
The council also discussed possible changes to the trash program, and heard the downtown partners annual report.